BlackVue DR600GW-HD
SKU: dr600gw-hd-1yr-16gb
### This camera has now been replaced by the new DR650GW-1CH ###
Blackvue DR600GW-HD In Car Dash Camera
Dash cameras are an effective tool in capturing road rage, hit & run and resolving insurance claims in Australia.
Product Features
- Full HD 1080P Resolution
- CMOS 2.0MP Lens
- Apple & Windows Compatibility
- Smartphone APP (connect to iPhone or Android)
- All new Discrete Black Design
- Up to 64GB SD Compatible
Recording Times: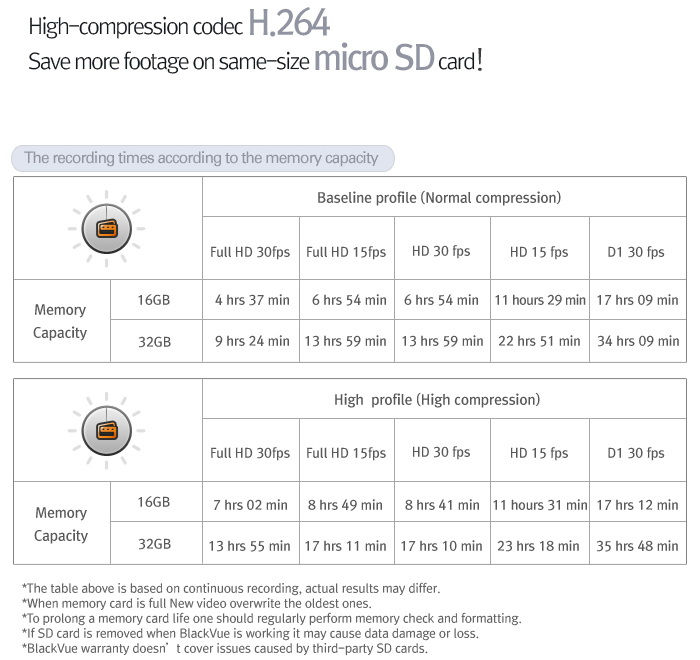 Specifications:
| | |
| --- | --- |
| Quality Video & Audio | Camera: 1/4" CMOS Sensor / 2.0 Mega Pixels |
| Standard SD Memory Card | Supports up to 64GB SD Card (Class 10 Pittasoft) |
| Wide Angle View | Front Camera 133' Degrees (reduce for improved clarity) |
| Video Format | MP4 |
| Reversible Design | 360' Rotational body recording various direction |
| Recording Speed | 30fps Frames per second/ 15fps Frames per second |
| Image Resolution | Full HD 1920x1080px Max | D1 720x480px Min |
| Motion Detection | Yes in Parking Mode (requires power magic pro) |
| Data Compression | Highly Efficient H.264 |
| Built-in Format Function | Yes (Press & Hold WiFi button for 10 seconds) |
| Built-in WiFi Modem | Yes (For use with free smart-phone App) |
| Built-in G-Sensor | Yes |
| CCTV Using PCU | Surveillance camera function using Power Control Unit |
| GPS Receiver | Built-in Highly Sensitive SIRF III Antennae |
| Recording Options | Normal, Parking, Event (Activated by shock) |
| Camera Size & Weight | Front - 108.5mm x 36.0mm / 114grams |
| Operational Temp | -20'C ~ 70'C |
| Power Supply | 12V/24V DC |
| Power Consumption | 12V /0.20A |
| Factory Warranty | 1 Year (Australian Genuine Warranty) |
| Compliance Marks | C-TICK (N28189) KC, FCC, CE, RoHS, Telec |
| Manufacturer | Pittasoft Co., Ltd (Auto BlackBox Australian Importer) |
The BlackVue Series comes with all you need to get started!
All Blackvue car cameras purchased from Radars Direct come with a minimum 1 year replacement warranty.
We Guarantee you will be impressed! Or your money back.
At Radars Direct we want to ensure all customers receive full backup support and have the right to return their purchased products for a full refund within 14 days of purchase if they are not satisfied with the product.
Please retain all receipts for warranty purposes. If you do not have clear proof of purchase, Radars Direct is not obligated to offer you an exchange, refund or repair.
The customer will not be required to pay postage costs for any product purchased by Radars Direct if the customer is not at fault. These conditions apply if a product received by the customer is faulty and is returned within 14 days of purchase. Conditions apply.
All products you receive from Radars Direct are in the original factory seal, most of our products are re-designed and re packed for Australian conditions by our distributors. If in the event you receive a product which is faulty, we ask you to return the item to us, paying all postage costs at that time, if the product fault can and clearly be determined in-store, we will offer you a full refund, exchange, or store credit as well as refund you the costs for sending it back.
If your product becomes faulty from normal use and the product is still under warranty, once proof of purchase has been established, simply send the product back to us, if the product fault can safely and clearly be determined in-store, we will offer you either a refund, exchange, repair or credit, and because our products are authorised by Australian distributors, there is no need to delay you by waiting to send the item back to the US for repair. In most cases you will receive a new product replacement, hassle free. Please note that warranty dates do not extend or renew from the date of replacing a product under warranty.
Note:: Select 1080P Quality for best viewing.